Blacksort rice is originally from China. It has been a special one meant for the royal family for a long period of time. It also has a high medicinal value that traditional Chinese medicine has benefited from. This product is good for the stomach, liver, and kidneys. The product was also introduced in the US in the early 90s. The wild type, which is not considered as rice itself, is also a medicinal product. It belongs to the grass family and is originally from North America. However, they are both termed as rice and they make great cooking recipes. The two have a sticky taste, but the wild variant is sweeter in the aroma. They can be cooked in a rice cooker in a different setting from the normal brown rice. The medicinal value of the two is similar. If you use any of them, you will get the benefits. However, wild rice is best cooked as a combined meal with other dishes or in salads. The black rice is special and was meant for the royal family only. After many years, it is now available for everyone in China because of its medicinal value. However, it is produced in a low amount. The wild rice is also rich medically and benefits the body in many ways.
Black rice is a type of rice originally from China and Asia. For a long time, this basic product was meant for the royal family only and simple people could not eat it. It has a sweet taste with a texture more reminding of nuts. With time people discovered all the benefits of eating black rice and common people were then allowed to eat this unique food. The people of China started to grow it for commercial use.
Soon the grain was discovered to be rich in antioxidants like the anthocyanin. The antioxidant is the element beneficial in supporting the heart and brain. It is also rich in vitamin E, which is good for the eyes and the immune system. As compared to the brown and white sort, black type has a lot of fiber, iron, and protein.
The black sort is very healthy, considering it has a low glycemic index. The absorption of sugar is slow, avoiding blood sugar spikes.
Black Rice Nutrition
Black rice is highly nutritious. It contains protein, minerals, antioxidants, and B complex. These components are important in enhancing a healthy heart. The black rice also has a high anthocyanin component that is good in reducing viral infections and risks of cancer.
Benefits of Black Rice
Natural source of several nutrients
Has anticancer properties
Gluten-free
Nutrition Value of Black Rice
It is rich in antioxidants
It enhances the heart health-wise
It is a good body detox
It helps to prevent diabetes
It is naturally free of gluten
It is the best in weight loss.
Lundberg Family Farms - Organic Black Pearl Rice, Floral & Aromatic Whole Grain Black Rice, High in Antioxidants, Pantry Staple, Non-GMO, Gluten-Free, USDA Certified Organic, Vegan (16 oz)
EXOTIC and SMOOTH: Bring a sense of adven­ture to the table with Black Pearl Rice! The very name evokes the won­der of this grain gleam­ing ker­nels and smooth fla­vor. Plus, it's high in health-pro­mot­ing antho­cyanin antiox­i­dants
THOUGHTFULLY CRAFTED: The alluring, shiny black kernels and light, fruity aroma make this rice rather tempting. Use it in place of whole-grain brown rice to add ele­gance to your favorite stir-fry, side dish, sal­ad, or dessert recipes.
GOOD FROM THE GRAIN UP: This product is Non-GMO Project Verified, USDA Certified Organic, gluten-free, 100% whole grain, and Kosher. At Lundberg Family Farms, we strive to make every bite of our grains as healthful as they are delicious
LEAVE THE LAND BETTER THAN YOU FOUND IT: There's more to food than flavor. Our focus on organic, non-GMO and diverse grains helps create a food system that doesn't drain our earth's resources, and that puts meals on your table of the highest quality
CULTIVATING A FAMILY TRADITION: For over four generations, the Lundberg family has produced high-quality organic rice products. Our mission is to honor our family farming legacy by nourishing, conserving, and innovating for a healthier world
Black Rice the Forbidden Rice
Black rice is referred to as a forbidden sort because it was meant for the royal family only in China. It was also used in traditional Chinese medicine. This type of product was rare, considering the production was low and impossible to get for ordinary people.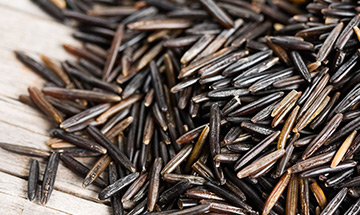 Wild rice belongs to the grass family. It is also highly nutritious with antioxidants, minerals, and proteins. This product is a long-grain that was originally grown in North America. It was a wild plant at lakes and river beds. You can cook it as a single meal or have to mix it with other rice for blending. It can be used in salad mixture.
Wild Rice Nutrition
Benefits of Wild Rice
It has a high fiber content that enhances digestion.
It does not contain any sodium, thus protects the heart.
It contains Vitamin C, which is good at boosting immunity.
It is rich in phosphorus that is best for the bones.
It is highly rich in antioxidants that reduce aging.
Nutrition Value of Wild Rice
It contains folate, which is great in reducing congenital disabilities.
It is gluten-free.
It is rich in magnesium.
It is rich with antioxidant components.
It aids in weight loss.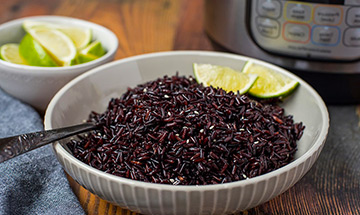 There are several differences between the black grain and wild rice. The major difference is the black rice is from rice roots, and the wild sort is from marsh grass.
The wild sort is believed to be the rice because it has the same appearance as usual rice. It is, however, not related to the rice family. The black rice is almost similar to the brown type, but it has a better flavor. The wild rice comes in two types; the organic and the cultivated. Chinese black rice and wild rice have similar health benefits.
Some of the key differences for the black and wild rice can be identified in the following:
Aroma
The black rice is almost similar to the brown type, but the flavor is better with a mild aroma. It has different varieties of grains in long, short, and medium. The wild grass has a sweet smell that gets sweeter when cooked.
Taste
If you look at black rice vs. wild rice in terms of taste, both get sticky when cooked. They cook well, but they do not get firm like the other brown rice. It takes over 30 minutes to cook with the best rice cooker.
Cooking Black and Wild Rice
Black rice and wild rice can both be cooked like normal rice. You can use them in different rice recipes. If you use the best rice cooker for wild rice, you use the same brown rice settings.
In cooking, wild rice vs. black rice gives a different outcome. Both are of medicinal value. They don't have the same taste.